"It is education and knowledge that enhance innovation and inventors in the world." – Rahela Sidiqi, Director of the Rahela Trust.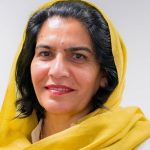 Afghanistan has the legal framework to protect women's rights through its Constitution, labour laws, civil laws. Civil Servant Law and Elimination of Violence Against Women have been signed and ratified and are underpinned by CEDAW and UN Security Council Resolution 1325.
But there are challenges and barriers that block women from progress.
In addition, political leadership positions are given to women and they are doing their best to do the job effectively.  For example, we have 27% female MPs in the lower house and 21% in the upper house, 240 judges, 2 ministers, 3 independent chairs, 12 deputy ministers, 3 ambassadors and many diplomats. There are 3,126 women in the police, 1,179 in the Army, 3,755 doctors, 85,177 female civil servants and 800 businesswomen; $77m, through 1,700 private sector areas, is invested for women's economic empowerment. Afghanistan's first lady Rula Ghani is proactive in the manner of queen Soraya Tarzi, therefore connecting the women rights activists is more closely to the palace then ever before.[1]
According to  Human Rights Watch (HRW) Afghanistan is still one of the worst places for women to live and honour killing is still common practice.[2]  Just last week, it became known that a woman in Faryab had been beaten continually by her husband and father-in-law, for five years. This took place because she was exchanged with her brother's wife at an early age, under the badal system. She is just 17 years old and her body is marked with burns from boiling water and knife cuts.[3]
– 87% of Afghan women face violence.
– 70-80% of Afghan women marry before the age of 16.
– 80% of all Afghan suicides are women.[4]
Most unemployment issues in Afghanistan are related to lack of education, knowledge and skills[5]. 80% of the group who are suffering are women. In rural areas, stoning, abuse and beating inside the home is still common.  In the workplace, harassment of women is not adequately addressed.
There is a huge need for female doctors. For example, there is just one (female) physician per 5,000 women.