Stories
These are just some of the young female scholars from Afghanistan that will benefit from your support.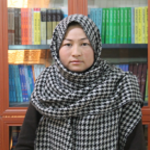 Khatima Ezatullahi, 20, Ghazni Province, Hazara – Student in the Faculty of Economics 
Khatima's mother is divorced and has been diagnosed with mental health problems. Khatima would like to continue her education and work towards supporting her mother and other vulnerable women like her.
 "Upon graduation I would like to support other women and girls in education and work opportunities. I would also like to remove the stigma around divorced women in Afghanistan, women face both alienation and violence."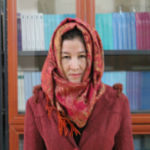 Hamida Ahmadi Wardak, 24, Wardak Province, Pashtun – Student in the Faculty of Economics 
Watch a Video Message from Hamida
Hamida's father is blind and her brother is unemployed. She has studied management and her dream is to continue her education so that she can support her family and support women and girls in a similar situation.
 "My story is not unique, women and girls across Afghanistan would love to pursue their dreams of education, but mostly we cannot due to poverty and lack of opportunities/support for women."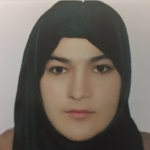 Mansura Walizada, Dunya University, Student of Economics and Politics
"The subject I was most interested in and currently am studying is Law and Politics. With the knowledge gained from this course, I hope to improve myself and help other Afghan women move forward. My request for those who are supporting this initiative is to always continue to provide this in as many places as possible, as this is the best initiative, not only for girls in Kabul but for the many girls in other cities who wish to get an education, but who do not have such opportunities available to them nor are aware of how to start their education."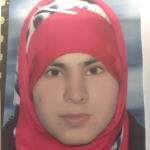 Farzana Muhammadi, Dunya University, Student of Law
"I have come to believe that by studying law, I can truly help my country and people, by working towards humanitarian and women's rights. I am incredibly dedicated to making a change and giving back to my country, especially to the women of Afghanistan who are barely given any rights.
If we look closely, there are many girls with great potential and a desire to follow their higher education and become a source of help for our country. Unfortunately, one of the main problems has always been economic instability in Afghanistan. Therefore, we need more programmes like Rahela Trust to help those families so that their children can make a positive change within Afghan society."
Nilab Zarif, Dunya University, Student of Economics
"When I look around me at the young girls in Afghanistan, their financial circumstances, their families who do not permit them to further their education, they have so many barriers that prevent them from pursuing their education. Rahela Trust presents an excellent opportunity for these girls to put to use the talents they have and become a positive example for other girls.
I have chosen to study economics because I am very interested in the economy. By studying economics I want to positively contribute towards the economy of Afghanistan."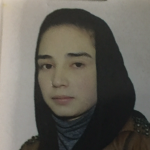 Negina Saeedy, Dunya University, Student of Economics
"When I first heard that I succeeded in becoming a Rahela Trust scholar, my desperation turned to hope! I hope to study and become an economist and eventually establish my own business. I would love to support other women by creating new jobs with the development of factories and other manufacturing needed in Afghanistan. I also plan to achieve high scores in all my classes. I deeply thank the women, men and our Afghan brothers and sisters, that have made these scholarships possible. I hope they continue to support young Afghan women attain a higher education."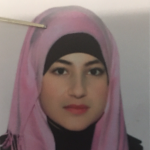 Feroze Amirzai, Dunya University, Student of Economics
"I want to change our society and the lives of the women and girls in Afghanistan, and be able to help and support them. The subject I will be pursuing at Dunya University is economics, and in the future, I hope this will help me help my country. The aim of my work is to support other girls to become successful, graduate and keep their talents alive like I am doing right now. Moreover, I want to be a good example for others by having good grades, being a decent girl, and becoming even more successful. I want to motivate other girls to study hard and succeed.
"It would be nice if the Rahela Trust could continue with their work and help other girls who are having problems in getting access to higher education."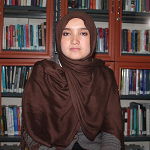 Marzia Mutamed, 20, from Bamiyan Province, Hazara
Watch a Video Message from Marzia
Marzia has no father and is the eldest in a family of 9. Her mother is sick and undergoing treatment. Due to their difficult financial situation, Marzia and her sister live with their aunt.
"My ambition is to empower women and to help them develop their confidence and talents, by creating opportunities for women and girls to excel in education, employment and in society."
"I dream of establishing schools in remote areas of Afghanistan so that women and girls there can also enjoy their basic human rights and enjoy life."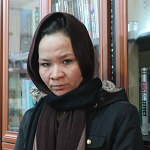 Shokriya Rahimi, 24, from Wardak Province, Hazara
Watch a Video Message from Shokriya
Shokriya's father was killed in a suicide attack and she has a younger brother who works to support the family. Shokriya teaches maths but that doesn't even cover the family's basic needs.
"If I am able to complete my Bachelors degree, I would like to continue in education as an educator and teach others; I wish to help other girls in my situation who have a desire to learn but cannot due to economic or family difficulties."
"I want to become a computer science expert."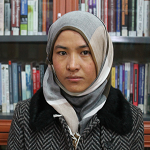 Amina Omid, 21, from Lal Sargengal of Ghour Province
Watch a Video Message from Amina
Amina lives with her sister in Ghor. She loves poetry and writing.
"My ambition is to work hard to build strong leadership at community level where women can play an active role in their communities and are treated equally and humanely."
"I study politics and I want to use the tools of politics to facilitate the process of peace building".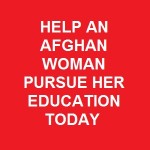 One year university education for a student costs:
£1,750 / $2,220 / €1,950