Rahela Sidiqi
My Story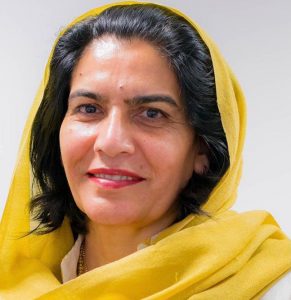 Born in 1966, I had a happy childhood in rural Afghanistan, in places like Baghlan, Paktia, Jawzjaan… waking up to my father's melodious chants of the Quran and birds singing. My father, who was a police chief and loved Rumi poems, would teach my mother poems and my mother, despite being illiterate, would, in turn, recite them to us from memory and ask us to write them down before my father returned from duty. I remember, when I was just in year four of school in Paktia/Gardise, my father left for the office, my mother and I were in our beautiful dining room with big windows. She was ironing while reciting a poem for my dictation. From an early age, I was taught about the importance of values and education. Everything changed when I was 16. My father never returned home. The rebels ambushed his post during the Soviet occupation of Afghanistan.
My mother was left alone with ten children to take care of. Life was tough, but I was adamant to complete my education and so I did. Although my brothers felt responsible in their thought, they wanted me to get married to one of my father's close friend's sons (whom we called uncle). He was well off and his son was well educated but I rejected the offer and said I wanted to pursue my higher education. I remember the day when my two elder brothers, the brother of my so-called cousin who wanted to marry me, and I were standing in the corridor of my second brother's bedroom. My brother said we have higher education but no difference in our lives. I said one of you has a degree in economics and the other, a degree in philosophy! I too deserve a degree! You are crazy, he replied. In 1986 I graduated from the faculty of agriculture at Kabul University. After my graduation, that same year I married Hashim and by the end of 1988, we were gifted with two sons, Kiomars and Naweed.
Life went on and with the departure of the Soviets there was even a short period of peace, but this was shattered by the breakout of war between the Mujahidin factions. Kabul became the battlefield and after too many close calls with rocket attacks from Gulbuddin Hekmatyar (the leader of Hisb-e-Islami – one of the Mujahidin factions]), in1993 I sought refuge with my two small boys in Mazar-i-Sharif, a city in the north of Afghanistan. My husband followed once we had settled and I found work with Oxfam to help other refugees, like myself, in the North. When that project came to an end, I moved on to work for UNHCR. For a short period of time, I worked as a personnel officer and was then promoted to work as a women's program officer. I found it frustrating to see funds released to NGOs with little chance of influencing how the money was spent.
While trying to tackle this challenge, I was invited to join UN-Habitat who was just starting a programme to rehabilitate the urban areas and wanted to engage women in the process. I realised this was the opportunity I was looking for, one that could allow me to make a real difference; So, I accepted the invitation and joined UN-Habitat in 1995. There, through a process of consultation with people, I realized that women leading engagement was a significant principle in my mind. We developed a programme strategy that we called the Community Forums. It was lead by women and became the key means by which people were able to access resources to rebuild their neighborhoods and systems of local governance.
Over a period of ten years, we developed a strategy that survived the Taliban siege of Bamiyan, the fall of Mazar, and the spread to already occupied cities and continued through a grassroots home-based movement. However, the popularity and progress of our program became a threat to the Taliban rule and made my family and I a target. I received numerous threats from the Taliban network to stop my work with women, but I overlooked those threats and continued to help local communities become self-sufficient. Eventually, in 1998, when I was 4 months pregnant with my third child, my home was attacked, and my husband was nearly choked to death. They took everything we had and wanted to kill us all, but perhaps because of that one good deed somewhere, we survived. It was after that night that the UN-Habitat security decided to evacuate my children and me to Islamabad. One year later, I left my two eldest sons in the care of my sister and went back to Afghanistan to continue my work. Too young to be my Maharam (male companion) and too young to leave home, Elham (who is Elham??) traveled with me on training missions into Afghanistan, crossing frontlines to support the women and men who were starting fledgling programs in the Bamiyan and Panjshir areas, this time without capitalisation of external funds.
After 9/11, the US invaded Afghanistan and replaced the brutal Taliban regime with a democratic system. The new Afghan government asked us to design the National Solidarity Programme (NSP) based on the Community Forums' concept – at that time we had over 54 Community Forum initiatives in seven provinces of Afghanistan. We worked to scale up the program, developing training and operational manuals, for the new program that was to cover over 20,000 villages across the country.
After handing over the management of NSP to the government, I established an NGO called RASA (Rasa Advocacy & Skill-building Agency) to provide much-needed support in building the capacity of social organisers to implement the NSP in the northwest of the country, providing training to many of the facilitating partners.
I had the opportunity to study for a Masters's degree at Reading University in the UK and left for the UK in 2003 to study Rural Development. I also had my fourth child, a daughter, Rasheell, in London.
In 2005, after the completion of my degree, I returned with my family to Afghanistan. I decided I could best serve the country by working for the civil service commission. From 2006 to 2011 I worked as the senior advisor to the Chairman of the Civil Service Commission of Afghanistan. Based on my many years of experience, putting in place merit-based systems in the Community Forums, I was able to develop sound recruitment and management systems in the commission.
Unfortunately, due to the deteriorating security situation in the country and repeated threats on my and my family's life, for working against the corrupt elements in government, and my charity work for women's rights advancement in rural areas, I was forced to make the difficult decision to seek asylum in the UK. They attempted to kidnap my second son Naweed but thanks to the Afghan security force that intervened and sent arm guards at the right time, his life was saved. Leaving Afghanistan after all the work I had done there was devastating. It was also hard for my children and husband to adjust to the refugee life.
Thanks to some of the greatest people and dearest friends here in the UK, I found my way to continue to help my people from thousands of mills away.
In 2015, I founded a Charity called the Rahela Trust for Afghan women's education www.rahelatrust.org which provides higher education scholarships and mentorship to talented & disadvantaged Afghan girls and women in Afghanistan. As of today, we have provided scholarships & mentorship to 36 scholars at different universities. Our 20 scholars are at university and 16 scholars have graduated, many of them working in good jobs.
In 2019 I founded Governance and Reform Advisory (GRA) www.globalgra.com with the aim to enhance performance in public and private sectors and ensure good governance, accountability, transparency, and trust, which lead to improvements in living standards of people. However, a traditional oversight has been to mainly focus on structure. Instead, attention needs to be paid to processes. It is important to assess how governance really operates, and not merely how it's described on paper.
In 2021, witnessing the current situation with the takeover once again by the Taliban, I have founded GRA Aid to try and directly help women and youth in need: financially through the provision of humanitarian assistance with morale-building and mentoring to keep their spirits alive through this difficult time.